Expert Advice
As a materials-agnostic distributor, Bunzl is well placed to provide customers with trusted and objective advice on complex sustainability issues.

Helping Our Customers Meet Their Sustainability Ambitions
Many of our customers are under pressure to reduce their plastic waste footprint. This is a complex challenge: the daily running of our customer's businesses depends on the products we provide, and there are many plastic products where no viable alternative exists today. As market trends develop and as new product categories emerge, our customers look to us for practical advice and up to the minute expertise on which products can meet their needs while making their operations more sustainable.
Perspectives and Insights
Meanwhile, the complexity of the challenge is becoming increasingly clear, with the BBC calling the struggle to get the balance between reducing waste, food safety and price "the plastic paradox". As they state, "the solution will not be no packaging – it will be better packaging, dreamed up in research and development labs".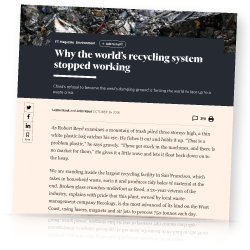 How Bunzl Distribution Can Help
At Bunzl Distribution, our unique position in the supply chain means we're well placed to provide our customers with credible and expert advice. Because we aren't wedded to any specific materials or products, we are able to provide an objective overview of the best solutions for each challenge:
We're currently expanding our dedicated team of plastics and sustainability experts;
We're rolling out programs to proactively help our customers understand their sustainability challenges; and
We're looking for opportunities to partner with customers, suppliers, and other stakeholders – including civil society organizations – to help strengthen recycling and re-use systems to secure end of life options for our products.
Finally, as part of our policy to provide our customers with high quality products and services, businesses within the Group are constantly developing and sourcing new products. We work closely with our customers and suppliers in the development of these new, redesigned or substantially improved products.
Our Progress So Far
Across the business, our expert advice has already helped our customers find sustainable solutions for the challenges they face. From helping our customers navigate the complex public debate through in-depth insight documents, to supporting them to achieve ambitious sustainability plans, we're proactive in finding ways to have a positive impact.
Case Study: Helping Our Customers to Analyze and Transform Their Plastic Footprint
Our customers' organizations are complex and they need multiple product lines for a wide range of purposes. It can be hard to get a handle on the sustainability impact of the products they use and to find practical ways to reduce unnecessary single-use plastics.
At Bunzl Catering Supplies in the UK we have developed a 'materials foot printing tool' – which assesses customers' current product portfolios and identifies opportunities to reduce their impact by shifting to sustainable alternatives.